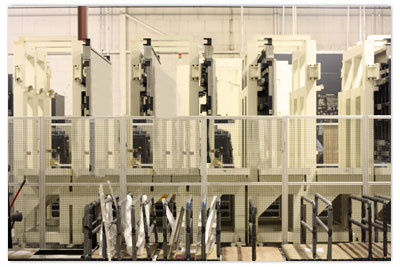 At Perfekta, we take pride in being one of the industry leaders in high velocity machining of large aluminum monolithic structures. Our philosophy has been to seek out a competitive edge through non-traditional machining approaches. Through the use of our multiple, large Makino MAG-3's and flexible manufacturing systems that apply high velocity machining techniques, Perfekta is able to produce complex machined structures at competitive prices, improved delivery, shorter lead times, reduced inventory, improved quality and shorter overall cash cycle times.

In addition to aluminum machining, Perfekta also specializes in the machining of hard metals. Our hard metal focus ranges from complex 5 axis products to straight forward 3 axis, both in titanium and steel.

Our ability to provide expertise in multi-axis high speed machining, kitting, assembly, and customer inventory management have all attributed to the growth of the company.